Main content starts here, tab to start navigating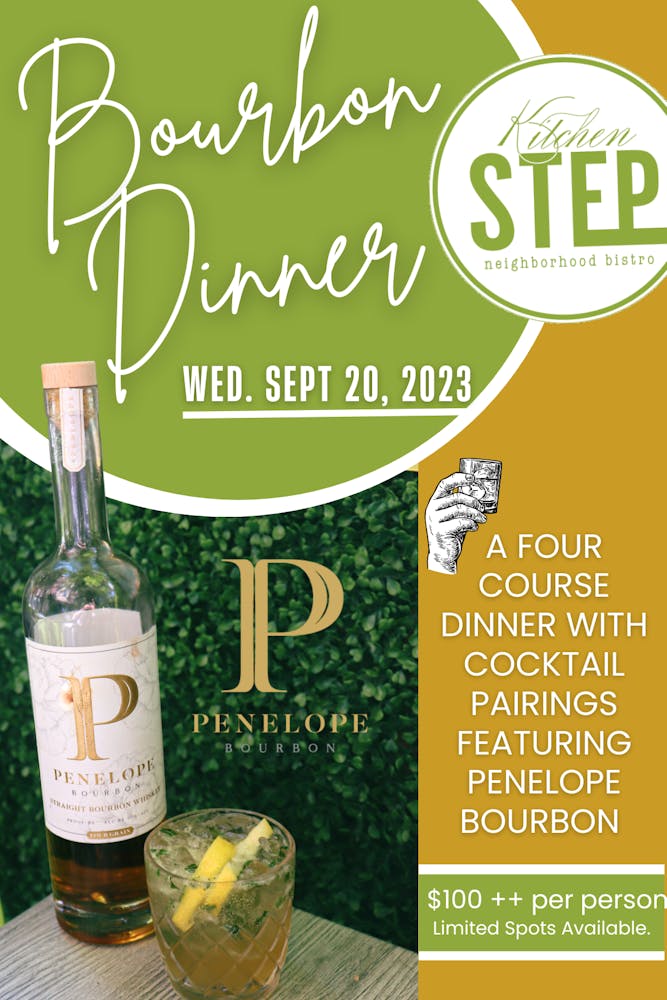 Join us on Wednesday, September 20th, at The Kitchen Step for a spectacular four-course dinner. Experience the perfect harmony of flavors curated by our CDC, Chef Brandon Goldsmith to compliment cocktails crafted with Penelope Bourbon.
Limited seating is available, so reserve your spot now for $100++ per person. Don't miss this culinary and spirits collaboration that promises an unforgettable evening!
CLICK HERE TO PURCHASES TICKETS
About Penelope Bourbon:
Penelope Bourbon stands as a pinnacle of craftsmanship in the spirits world. Meticulously created, Penelope Bourbon offers a symphony of smoothness and character that's second to none. With a commitment to quality, Penelope Bourbon's rich profile makes it the ideal partner for our exclusive four-course dining event.
THE EVENING'S MENU
$100 PP. + tax & gratuity
*vegan options available upon request
PASSED
TUNA CRUDO // ginger tapioca chip, apple blossom, citronette, cilantro
FIRST COURSE
CRENSHAW MELON W/ CHAMPAGNE VINAIGRETTE // sliced speck, firecracker mizuna, basil, housemade mozzerella, picked thai chile
SECOND COURSE
SMOKED SHORT-RIBS // penelope bourbon glaze, seared shishito pepper, elotes, tajin
DESSERT COURSE
STRAWBERRY SHORTCAKE // mascarpone whipped cream, strawberry compote, hibiscus sugar